Dare to Paint
A courageous and insightful exploration of a woman's journey through
intuitive painting. Carol's story, intimate and compelling, shows how art
as process can be an amazing healing and spiritual path.
— Michele Cassou, author of Point Zero , Creativity Without Limits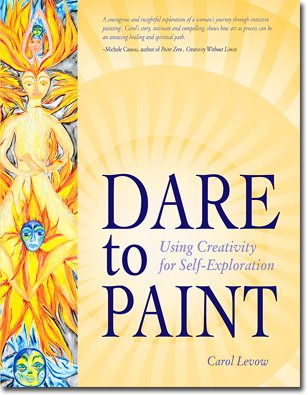 Dare to Paint describes one woman's courageous journey of self-exploration with intuitive painting: a powerful creative tool for meditation and healing.
Using intuitive painting as a creative practice required Carol to take a chance on herself, and risk everything she thought she knew about life. As her painting practice intensified, old fears and doubts arose shaking her confidence to the core.
With humor and grace she confronts her "demons" and finds her way back to a place of wholeness and truth. Trusting in intuition and spontaneous expression, Carol dives into the mysteries of her inner world and gently encourages the reader to experience her profound insights along with her. In this deeply personal and touching account of her life, Carol shares over a hundred paintings spanning nearly a twenty-year period.
Dare to Paint
Using Creativity for Self-Exploration
200 Pages
Over 100 full-color images
$29.95